Birthday parties are a special occasion for young girls, and picking the right birthday party venue is a crucial aspect of making their special day memorable. Choosing the right venue can be a daunting task, especially with so many options available. In this post, we'll discuss seven awesome birthday party venue ideas for girls. Let's dive in to find the perfect spot for your girl's next celebration!
Baking Studio
Hosting a birthday party at a baking studio provides a fun and interactive activity for the girls. They get to learn new baking techniques, create their own treats, and enjoy the process of baking and decorating with friends and family. Baking is a great way to encourage creativity and imagination, and the girls can express their personalities through their baking creations. The birthday girl might even get to make her own birthday cake!
Arts & Craft Studio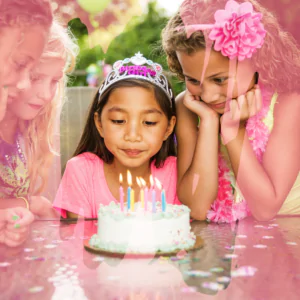 Arts and Craft studios offer a hands on birthday party experience for your daughter in a laid back atmosphere. There are lots of options in this space from national chains like Michaels and AR Workshop to locally owned places in your community. And if you're hosting a co-ed party, boys and girls alike enjoy the opportunity to make crafts with friends.
Salon
Salons are a great option for girls looking for a more relaxed birthday party experience. Some salons will let you rent out the entire location for your birthday party group. But if you're daughter is only looking to spend time with a few select friends or family members, you can do an ad hoc "party" at a local salon, which will probably save you money. If you go the ad hoc route, you can always finish off the party with a trip to an ice cream parlor or bakery for dessert.
Farm
For the girl that loves animals, especially horses, a farm birthday party venue is a great choice. We're such fans of the farm birthday party venue that we wrote up a separate post on How to Plan a Kid's Birthday Party at a Farm.
Gymnastics Center
Gymnastics centers are a classic birthday party venue idea for girls. It's perfect for active girls who want to bounce, jump and show off their acrobatic skills. Boys also enjoy parties at gymnastic centers, which makes gymnastics centers a great option for co-ed parties. When looking for a venue, you'll find traditional gymnastics training centers offering parties, but there are new entrants in the space that blend the best aspects of of gymnastics centers and indoor playground activities, like We Rock the Spectrum.
Trampoline Park
No list of birthday party venue ideas for girls would be complete these days without trampoline parks. They are undoubtedly the hot birthday party venue, and with good reason. Trampoline parks take the best aspects of active venues like a gymnastics center and add in some unique activities like interactive games, physical activity and of course trampolines. Trampoline parks are loved by girls and boys, so it's a great option for a co-ed party. They also tend to be all inclusive, making the planning part easy (but make sure it's budget friendly). It's hard to go wrong hosting a birthday party at a trampoline park if you're looking to create a simple, yet exciting and memorable birthday event.
Ice Skating
Rounding out our list of birthday party venue ideas for girls is our most unique option, which has high potential for creating an amazing and memorable birthday experience. Ice skating birthday parties are a surprisingly great option even for kids with little to no skating experience. Rinks typically have devices to aid newbies and kids can pick it up quickly.
Most rinks offer birthday party packages, but you can also do an ad hoc party during an open skate. That might even save you some money.
One tip for our friends in the south – ice skating birthday parties are a great summer time option because it lets you escape the heat.
Conclusion
Choosing the right birthday party venue for your daughter requires careful consideration of her interests and preferences. The above venues are excellent options that cater to different interests and personalities. For help with planning the best birthday possible for your child, grab a free copy of our Ultimate Kid's Birthday Party Planning Guide.